Personal Injury Attorney in St. Louis, MO
The Morris Firm Will Fight for Your Justice During Your Personal Injury Case
Contact a Workers' Compensation Lawyer in St. Louis, MO
You were injured due to someone's careless actions. Now, you're out of work, suffering in pain and watching medical bills pile up. Don't let anyone get away with injuring you. Make them pay for their negligence with help from The Morris Firm.
We know how devastating dealing with a personal injury can be. Focus on healing, not paying for medical bills. Make an appointment with the wrongful death lawyer at The Morris Firm in St. Louis, MO as soon as possible.
We're Committed to Helping You Achieve Legal Success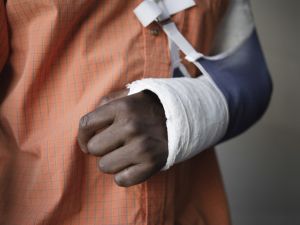 The wrongful death lawyer at The Morris Firm is your best bet for assistance with personal injury law. We'll work hard to get compensation for your injuries related to:
Automobile accidents

Workplace injuries

Slip and falls

Medical malpractice

18-wheeler accidents

Defective products

Wrongful death
How Long Do I Have to File a Personal Injury Claim?
Each state has a different statute of limitations for personal injury claims. For the state of Missouri, you have five years from the date of your injury to file a lawsuit. To ensure you meet the deadline, it is crucial to hire a personal injury attorney in the St. Louis, Missouri area that has worked with cases similar to yours.
Who Can File a Wrongful Death Claim?
In Missouri, there are several parts that can file a claim against the party or parties at fault. This list is separated into three classes. The second class can only file a lawsuit if there are no individuals in the first class, and the third class can only file a lawsuit if there are isn't anyone in the first or second class to take legal action.
Class 1: spouse, children, lineal descendants of a deceased child, or the parents.

Class 2: siblings and their descendants

Class 3: the court may appoint someone to file a wrongful death lawsuit.
Call the workers' compensation and wrongful death lawyer at The Morris Firm today to get a free consultation. We can also help you with felony and misdemeanor charges in St. Louis, Missouri.